9404 Ooltewah Industrial Dr.
Ooltewah, TN 37363
United States of America
PRODUCTS & BRANDS details >>
CATEGORIES & HEADINGSdetails >>
Business Services //
Material Handling Equipment //
HAWKER® is the leading provider for advanced motive power system solutions customized to reduce operational costs and increase efficiencies for any motive power application.

HAWKER offers the broadest range of power solution products in the industry. As a single-source supplier, HAWKER manufactures both batteries and chargers. This allows HAWKER to assess and design complete power solutions to enhance each customer's operation and optimize productivity, improve efficiency, and minimize cost.

With more than 85 years of motive power experience and innovation, and more than 25 years of high-frequency charging experience and clear leadership in the area of smart charging and optimizing fleet utilization, HAWKER offers a complete line of battery and charger motive power system solutions. HAWKER power solutions are designed to reduce environmental impact, lower operational costs, increase productivity, and improve customer operations.

As the world's largest industrial battery brand, HAWKER manufactures the broadest line of lead-acid batteries, providing solutions for controlling and reducing motive power operating costs. HAWKER batteries deliver the longest life and lowest cost from many innovations.

HAWKER offers several charger products to keep batteries performing at maximum capacity for the maximum number of cycles. HAWKER's high-frequency, smart chargers deliver the greatest efficiency, highest power factor, and highest charge effectiveness available in the industry – reducing utility consumption and demand while prolonging battery life, reducing water usage, and increasing productivity by employing HAWKER's IONIC patented charge profile.

HAWKER is headquartered in Ooltewah, Tennessee.
Vendor Showcase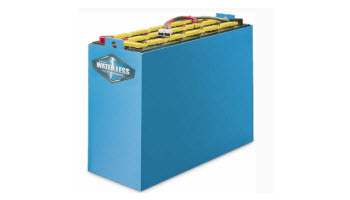 The WATER LESS battery requires watering only 4 to 6 times each year.*
WATER LESS provides solid performance, reduces expenses, and eliminates the need for a special charger. When packaged with a comprehensive maintenance plan, WATER LESS can help get you out of the maintenance business. read more